I have never been really fond of Italian screamo. I remember back in the days when Raein and La Quiete were some of the bands the most liked in that style, that I was not super fond of them. The only exception was The Death Of Anna Karina. I probably do not know every Italian screamo bands but after the 2000-2010 period I did not find any stuff coming from italy matching exactly my tastes. I did put the Chivàla album in my bandcamp wishlist in 2018 and did not listen to it for a couple of months. (you know there are so many bands to listen ....)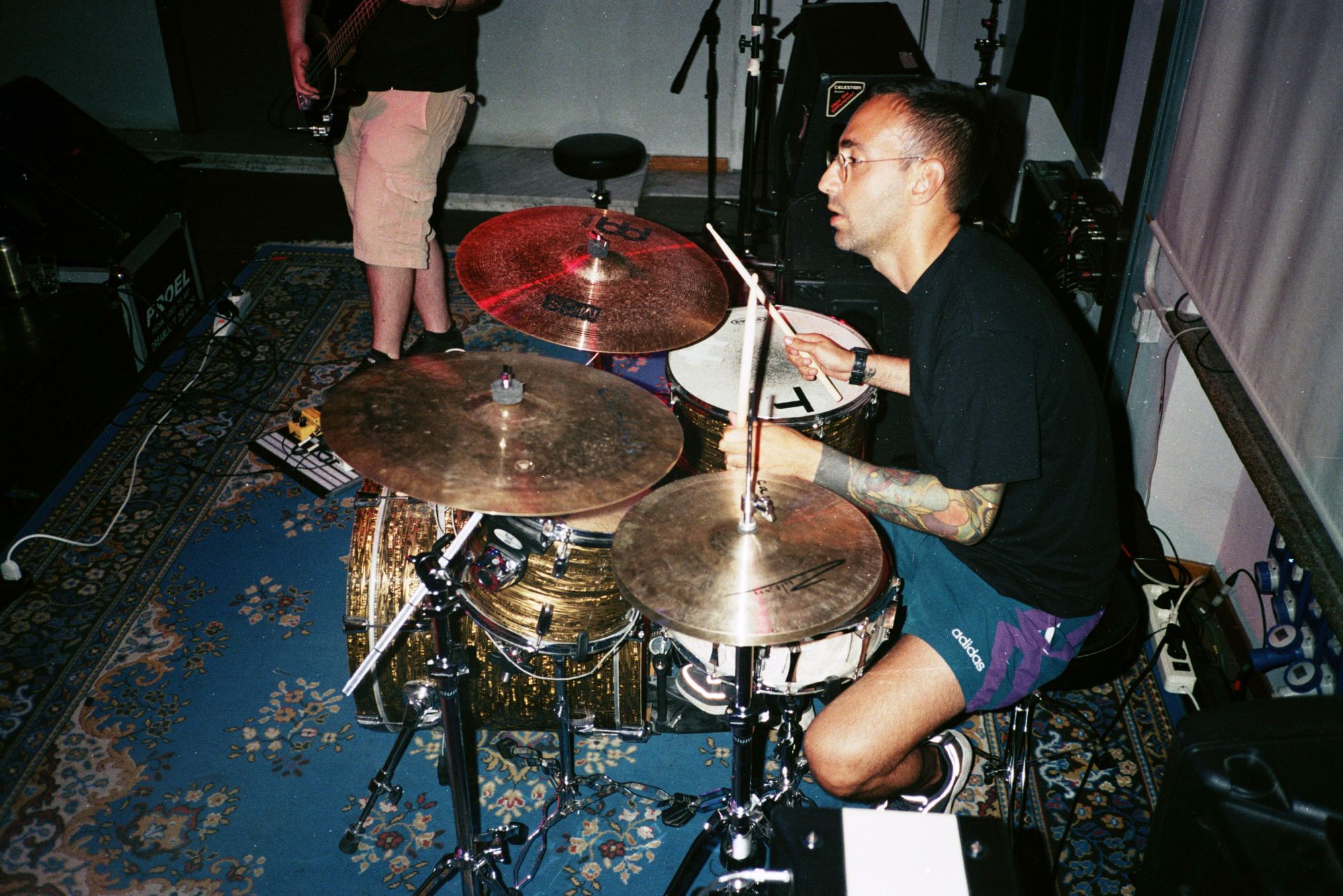 I remember putting a random playlist in my bathroom. I was showering when Terra from the Chivàla EP was randomly chosen by the algorithm. I can say I discovered Chivàla by chance. I did notice that a lot of things happened to me randomly. I still don't know if it scares me or not. The fact is I did listen and re-listen to that particular song over and over again. There was something deeply melancholic and strong in it which forced me to listen to it over and over again without listening to the rest of EP.
I then had the chance to have the physical release of the 10 inches split with Suiriami. This one is for me even more intense than the first EP and the two songs on that vinyl are just incredible, especially 27 Marzo, which is a super sad song (pretty slow/mid-tempo) that talks to me a lot and reminds me my past life (I'm talking here about the lyrics).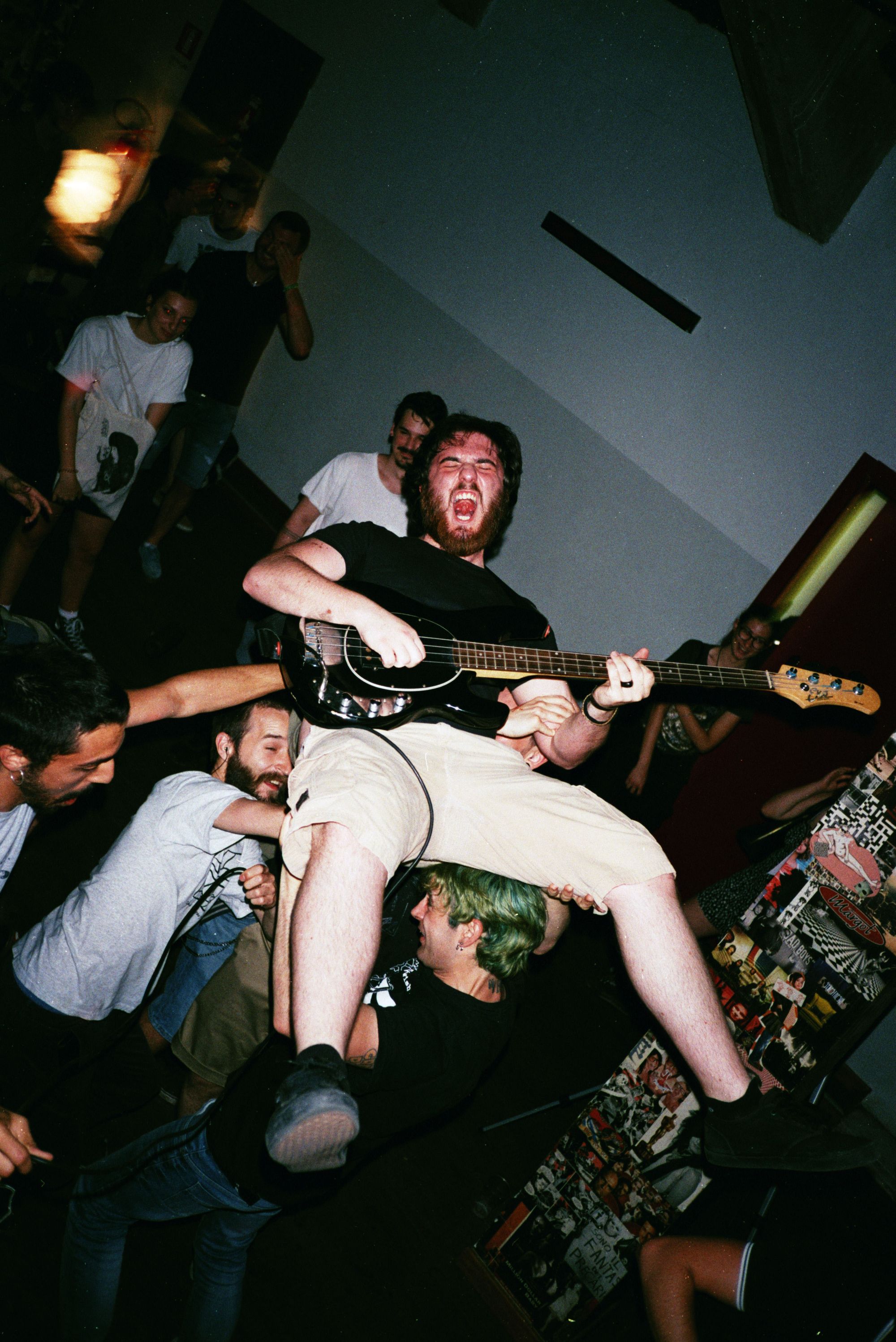 They released this year a split with Reste on tape. The song on that tape is in my opinion the best thing the band ever released. This track is so intense and sad at the same time. And once again the lyrics remind some events that happened in my in my life. This song is called Avrà I Tuoi Occhi. If there is one thing to remember about Chivàla it is this song, and if there is one sentence I do remember and that a lot of people do feel every day and every f***** minute of their lifes it is this one "Solo dolore, nel profondo" (only pain, deep inside). I'm talking and asking questions about this song in the interview so you will have more details about it in the interview.
Se il limite fosse liquido,
bisognerebbe ingoiarlo d'un fiato,
per annaspare, ad un passo dalla morte,
dove il sonno fa rumore e poi si stempera.
Oppure mescolarsi alle correnti del tempo,
in una spirale amorfa verso il fondo.

Solo dolore, nel profondo.

Scenderemo nel gorgo muti
ma con luce nuova feriremo il cielo,
come ogni sole dopo l'abisso della notte.

Se tutto è destinato alla deriva eterna
in uno spazio nero e senza Dio,
saremo tempesta per sempre.
I really hope you will enjoy this interview, the band did an absolutely fantastic job answering to it. Thank you so much.
All the live photos are taken by Claudio G. Messina, thanks a lot Claudio for letting me using your photos to illustrate this blog post !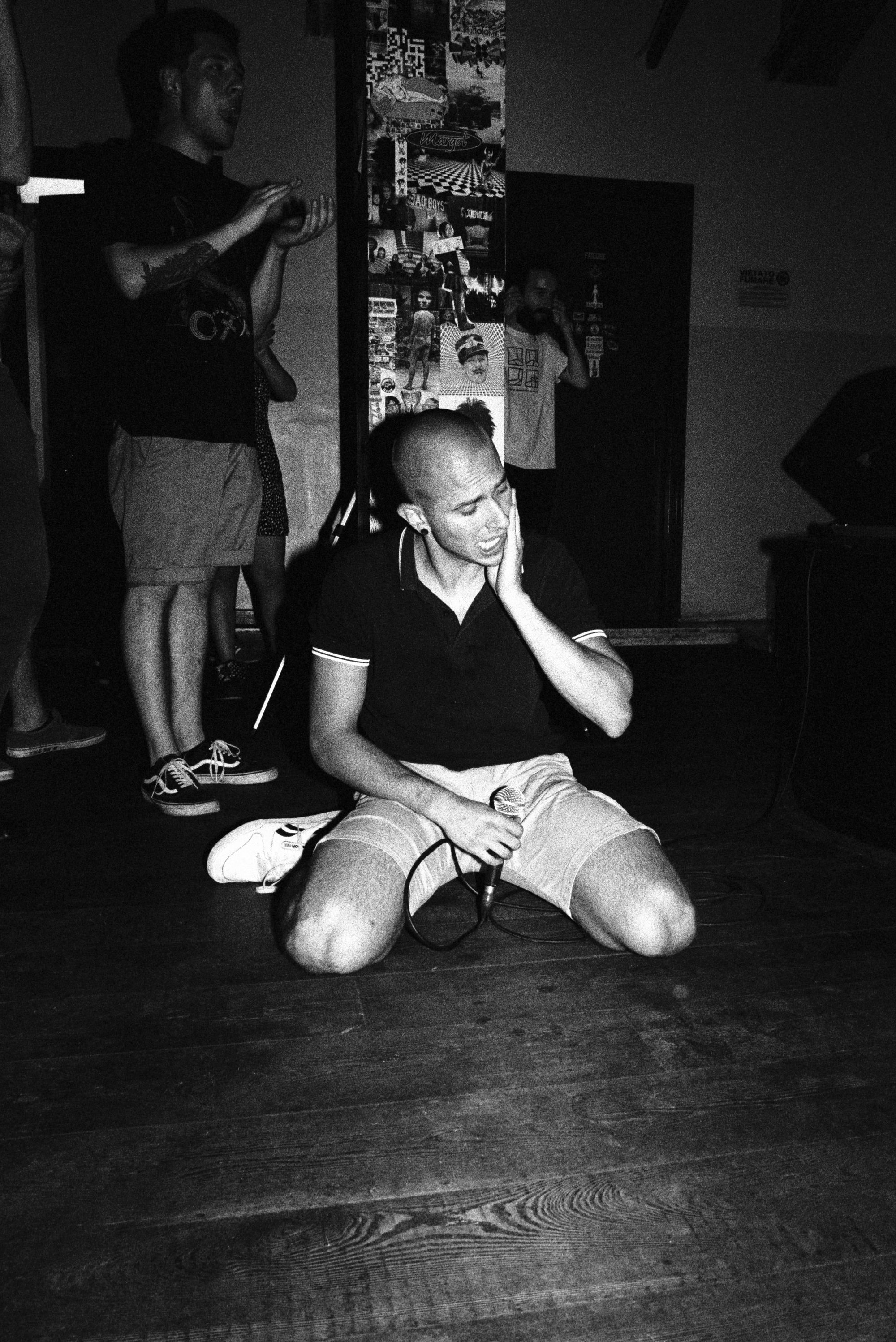 When I'm reading (on the internet) about Chivàla, it is often associated to Screamo. In my opinion Chivàla is not a Screamo band. When my friends are asking me how Chivàla sounds like I often refer to Verse and Self Defense Family (especially because of the the voice of your singer), which are in my opinion Post Hardcore or Melodic Hardcore bands. Do you agree with that statement ? Are you influenced by these bands or am I totally wrong ?
We try to play something which is truly ours, and unknowingly we blend together different kinds of influences, from Screamo to Post Rock, from Shoegaze to Post Metal, from Melodic Hardcore to Emo. We think that giving an "etiquette" to music nowadays is somehow reductive, but when we are asked what kind of music we play, we usually answer with "Post Hardcore".
Your statement is totally right: Giuseppe, our singer, says that he is heavily influenced from some iconic Melodic Hardcore bands such as Have Heart, Verse, The Carrier, Modern Life Is War, More Than Life, Killing The Dream and he is an absolute lover of Self Defense Family and End Of A Year. He has always been impressed by their genuine lyric-writing and their passionate attitude on the stage. Being able to convey the intensity of the emotions of your songs with your body language, creating a strong bond with the people who are listening to you, being almost "submerged" by them is, according to us, one of the most beautiful things that modern Punk, and its subgenres, has given to us. For a short period of time he used to play in a Screamo band called Folgore, and he grew up listening to classic Italian and French Screamo bands.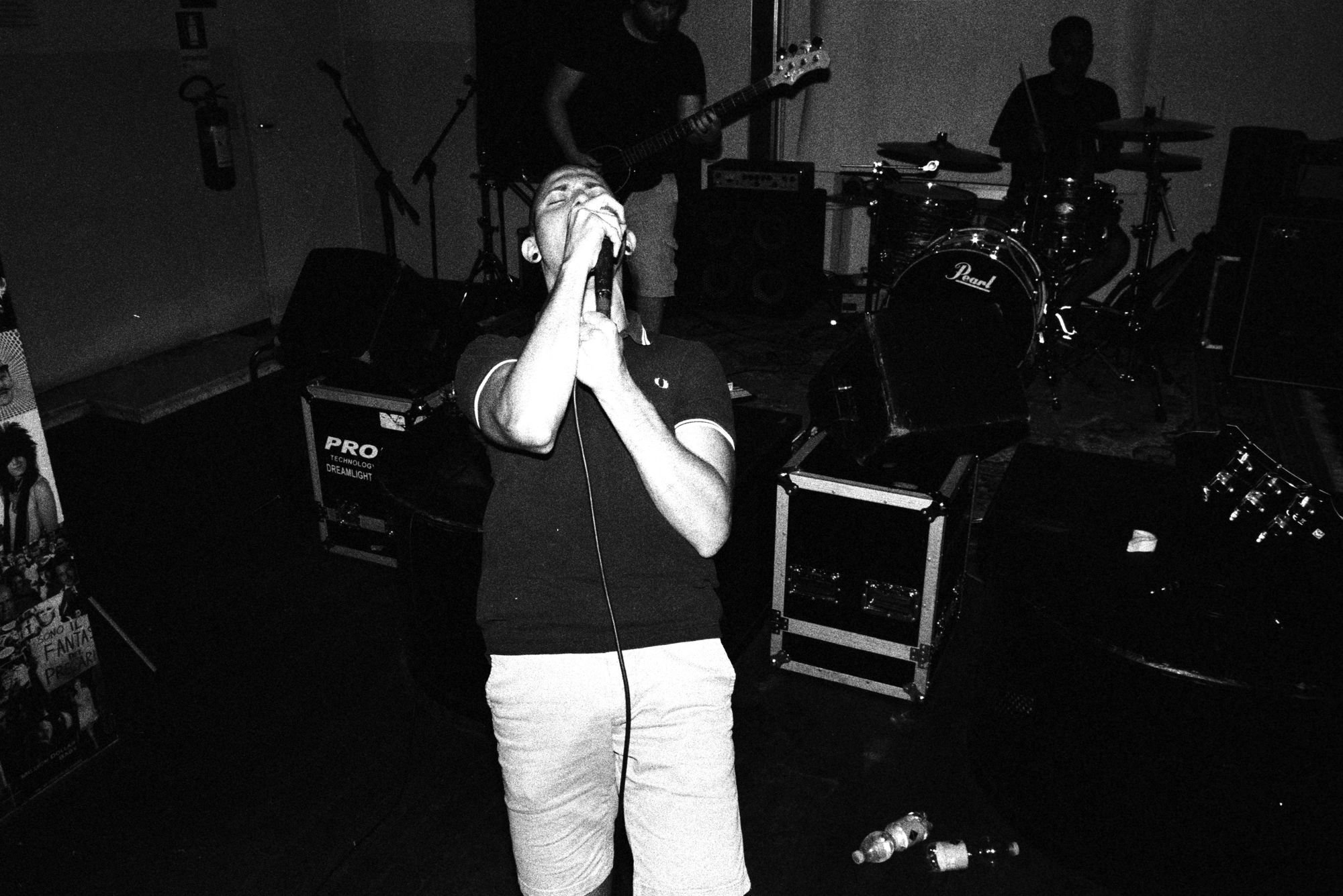 Did you play in any bands before Chivàla ? By diging on discogs (correct me if I'm wrong) I saw that your drummer played in a lot of bands based in Bari (Pastel/ISTMO/Minus Tree). How did you meet each others and why did you decide to play together. The first songs were released in 2018 but when did you start to play together ? Speaking of gigs did you ever tour outside of Italy (I heard you played in Germany, we tried to make you play in France without success) ?
Andrea, our drummer, used to play in a Melodic Hardcore band called Minus Tree from 2010 to 2013, and they toured Europe several times. Some years after their hiatus, he had an intense experience with Istmo, an instrumental band, which in its short history toured Europe, and with the Pastel duo, focusing on a more melodic and dreamy-like atmosphere. He is fond of Screamo, Melodic Hardcore, Post Rock, Emo and it is safe to say that he has a 360 degrees knowledge about Punk music and its subgenres. He listens to Hip Hop and Electronic Music as well. He always says that he started to really understand music when he firstly toured Europe with other bands.
Giordano, our founder guitarist, grew up listening to Ambient Music and Post Rock, mainly Mogwai and Godspeed You! Black Emperor, to Progressive (Tool and Mars Volta), and lately he approached the highly emotive Post Hardcore works of Envy and Marnero. Usually our composition process starts with the imput of Giordano and Andrea, which are the founding members of the band, and then we all complete the songs by adding our own ideas. Giordano has been playing for seven years in Gingko Dawn Shock, which can be labelled as an Alternative/Post Rock band.
Alessandro, our bass player, is mainly a singer and a guitarist, and agreed to play the bass guitar with us after our former member Luca moved to another city to finish his studies. He is the lead voice in Gingko Dawn Shock and the second guitarist. Lately he started a solo project called James Landed. He was the bass player for Istmo. He always tried to blend together different musical experiences. His playing style is influeced by The Smashing Pumpkins, A Perfect Circle, Black Metal and Post Metal bands, as well as the Post Hardcore of Marnero.
At the end of 2019 we welcomed another member in our family, Francesco, as guitarist. He builds custom guitars as his job, and he is a music lover. He followed some bands of our local scene in Bari (Pastel, Gingko Dawn Shock and The Pier), being a heavy listener of Screamo and Post Hardcore (Envy, Saetia, The Saddest Landscape, Rinoa, Svalbard, Birds in Row), and Math Rock.
We all know each other because we all were deeply involved in the local music scene, and sometimes we played some gigs together.
Giordano wanted to experience a more emotive and melodic sound, and with Andrea they decided to start the chivàla project in the middle 2017. He was through a hard period, coping with depression after a break up, and composed some of the first tracks in our ep. He says that he always wanted to play with Andrea, because they share some common thoughts about music, and their idea was to create a Screamo band, focused on a more bright and less chaotic sound. Than Luca and Giuseppe completed the line up. By October 2017 we completed all the five songs of our ep. We were very keen to play together, and we composed the tracks with no effort at all.
Unfortunately, we played outside of Italy just once. We played in May 2019 at the Miss The Stars Fest in Berlin, and the day after at the Ultimate Screamo Fest in Warsaw. We had the pleasure to share the van with our American buddies from Amitiè, creating a strong bond between the bands, and to play three gigs with Closer and Regarding Ambiguity.
We hope to play in France in 2021 (let's not think about Covid-19 for a moment)!!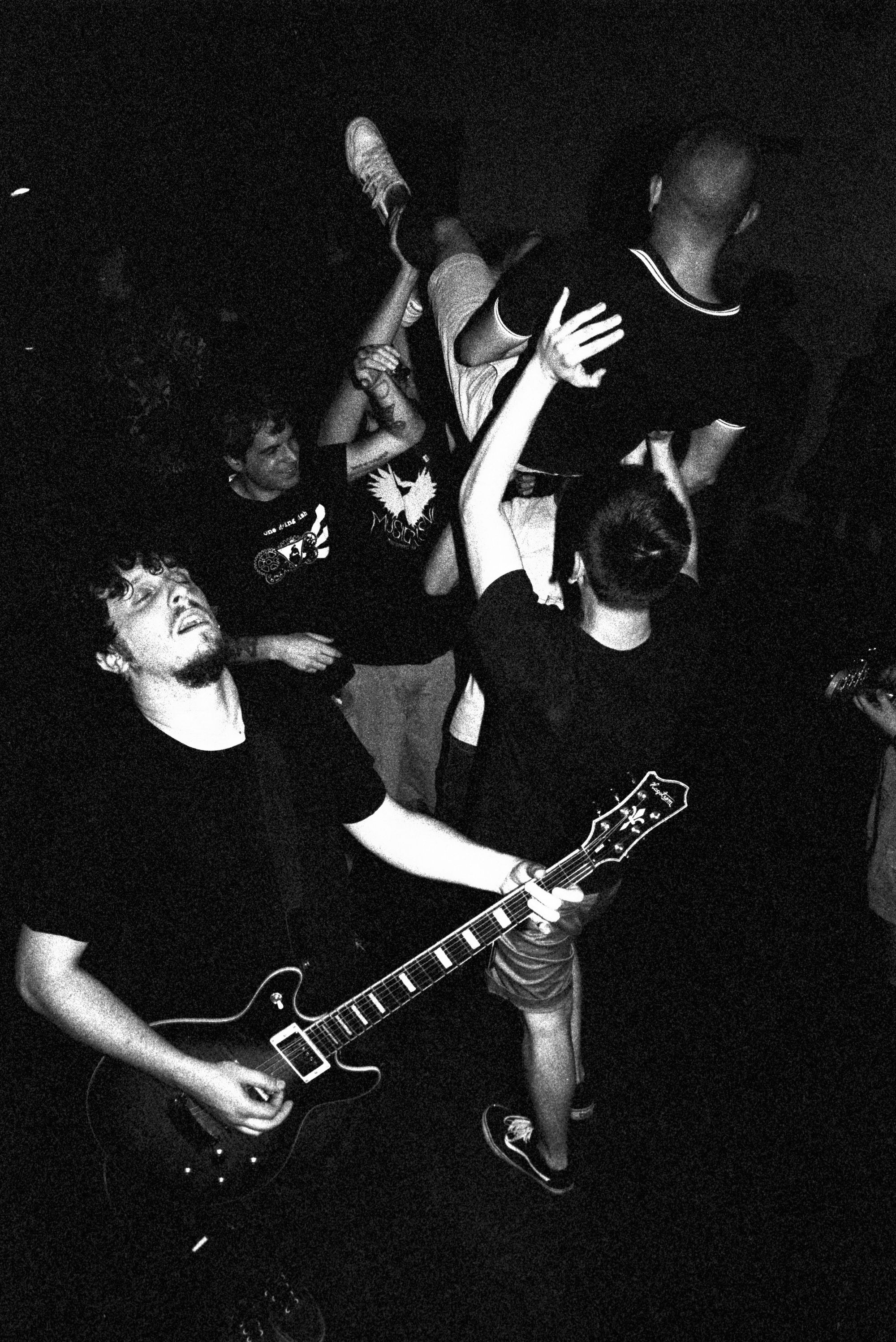 How did you know/met people from RESTE (who are sharing split tape with you), and how did you have the idea of making the split with them ? Splits shared by European and American bands are not that common, and as far as I know you've never toured in the US so how did you make the connection with them ?
Andrea and Ryan from Reste have known each other for several years, since when Yusuke were born and Andrea was playing with Pastel. They talked on the internet and they sometimes spoke about bands. Not long ago, Ryan wrote to Andrea, made him listen to some practice recordings of his new band (Reste), and he asked him if we could make something together. The idea of the split was born that way.
In my opinion the song on the split with RESTE (àvra i tuoi ochi) is the best song you have ever released. I have two questions about this song. Does it refer to Cesare Pavese, and if it is why did you choose to quote him ?
How was this song recorded, I mean, was it done before or during the lockdown ? By seeing some of your "instagram" posts you seems to record it at your "own" place; am I wrong ? Is this something you often do ?
Speaking of the lockdown were you able to pratice, or write new songs during this time ? Was it a difficult time for you as individuals or as a band ?
Even if I do not speak Italian at all I had a look on the lyrics which seems pretty poetic and or "abstract" to me. Who is writting the lyrics and what are the subjects you are talking about. I tried to search some kind of political meaning in it and found this :
è importante il pensare critico
la rivolta silenziosa contro regole immobili

sono libero perchè capace di piangere e urlare
la mia mente è davvero mia"
which is in my mind -kind of- a political statement. Will you say that Chivàla is talking about politics ?
The title of the song, "Avrà i tuoi occhi", and a line within the lyrics, "scenderemo nel gorgo muti", ("mute, we'll descend into the maelstrom"), are a direct quotation to Cesare Pavese's poem "Verrà la morte e avrà i tuoi occhi". Giuseppe, our singer and lyric-writer, was reading a lot of Cesare Pavese's compositions in that period, and was inspired by them. He arranged them in a personal way. The track talks about overcoming our inner emotional boundaries, to become a better version of ourselves in every way, no matter how hard it can be. "Se tutto è destinato alla deriva in uno spazio nero e senza Dio, saremo tempesta per sempre." ("If everything is destined to drift away into a dark, godless space, we'll be a storm forever."), is the sentence which contains the meaning of all the song: when the potential of a human being is fully unleashed and used to improve everything aroud him/her in a good way, it has no limits. To improve the way we see the world, and the way we take care of the world, we must first improve ourselves, care more for the others, be less selfish. An act of kindness, so easy for anyone of us to do, can change someone else's life for the better.
All the lyrics are directly influenced by all the XX century poetry, mainly Italian and Russian. Giuseppe always says that when he writes, he wants to be impersonal and abstract, so anyone who reads the lyrics and listens to the song, can experience the whole music in a very personal way, finding the meanings within himself/herself. If music itself is always a universal language, sometimes words can be so, too.
About the composition, we wrote the song some months before the lockdown, and we recorded it at the end of February 2020. Then the lockdown happened, at the starting of March, and we decided to share the song on the internet some months before the split came out, as an act of love towards all our friends across Italy and the world in a period of great distress. The lockdown was hard, we never met for two months, but we always kept in touch with videocalls on the internet. We could never practice, but Giordano was writing new material at home and he always reached out to make us listen to it. We think that the lockdown made the bond we share as individuals and friends stronger, and we couldn't hold back the emotions when we finally met again.
Usually we make some "homemade" recordings in our place to have an external perspective on the songs, we make the changes we want, and then we record them at a very special place in Apulia (our region), called Sudest Studio in Guagnano (LE), with the help of a friend of us, Stefano Manca. We did this for all the tracks we wrote, we don't know if in the future that will change.
We usually try to avoid any political meaning within our songs: if anything can be interpreted as political, was not intended to be so. Usually our lyrics talk about inner search, dealing with pain and struggling with depression: they are the description of unique moments of reflection, a way to go outside the turmoil of the mind.
I did notice that all your songs are written in Italian. I am french an I'm always saying to french bands to write their songs in French so it can be easier for "locals" to sing along and really understand the true meaning of some lyrics, and it make the music sounds really different. Even if I'm not italian, I think that Chivàla is easily recognizable by the fact you sing in italian. What's pretty strange is that we -in my opinion- do not find the "rhythm" or "sonority" of italian in your songs. Someone told me once : "Is it French, I'm not recognizing in what tongue he sings ?". Do you agree with that or is it the first time someone speaks about this ? Why did you choose italian and not english for your song and did you ever consider singing/writing in English ?
This is actually the first time we hear about this (the lack of "Italian sonority")! Giuseppe writes in Italian because he says that in his native language he can express meaning in a more powerful way. The lyrics usually play with sounds and accents within the words, a trait Italian shares with French and Spanish, which are both very beautiful and rich languages. There are many examples of bands which write content in their native tongue, and we love them: Daitro, Sed Non Satiata, Anteros, Viva Belgrado, Envy, Vi Som Alskade Varandra Sa Mycket.
Super simple question, but what does Chivàla (the word) means (I found some weird explanations of this word on the internet), and why did your choose that name ?
There is no real meaning in the word "chivàla". We were trying to find a name to the band and Andrea thought about the question "chi va là?" ("who's there?"), and he just moved the accent on the previous syllabe. We though it sounded pretty and that's all.
What did happen on 27 march. Is this day very personnal to you all ? (I guess by reading the lyrics of this song)
Giuseppe wrote the lyrics of the song on the 27th March 2018. He was going through a bad time, he broke up with his girlfriend, he worked a lot and he had no time at all to rest. The lyrics are painful and they refer to something we can all relate to. We all liked their meaning, and we agreed to call the track that way. Now, it's one of our songs we like the most. Sometimes, music is a way to just express ourselves and feel better.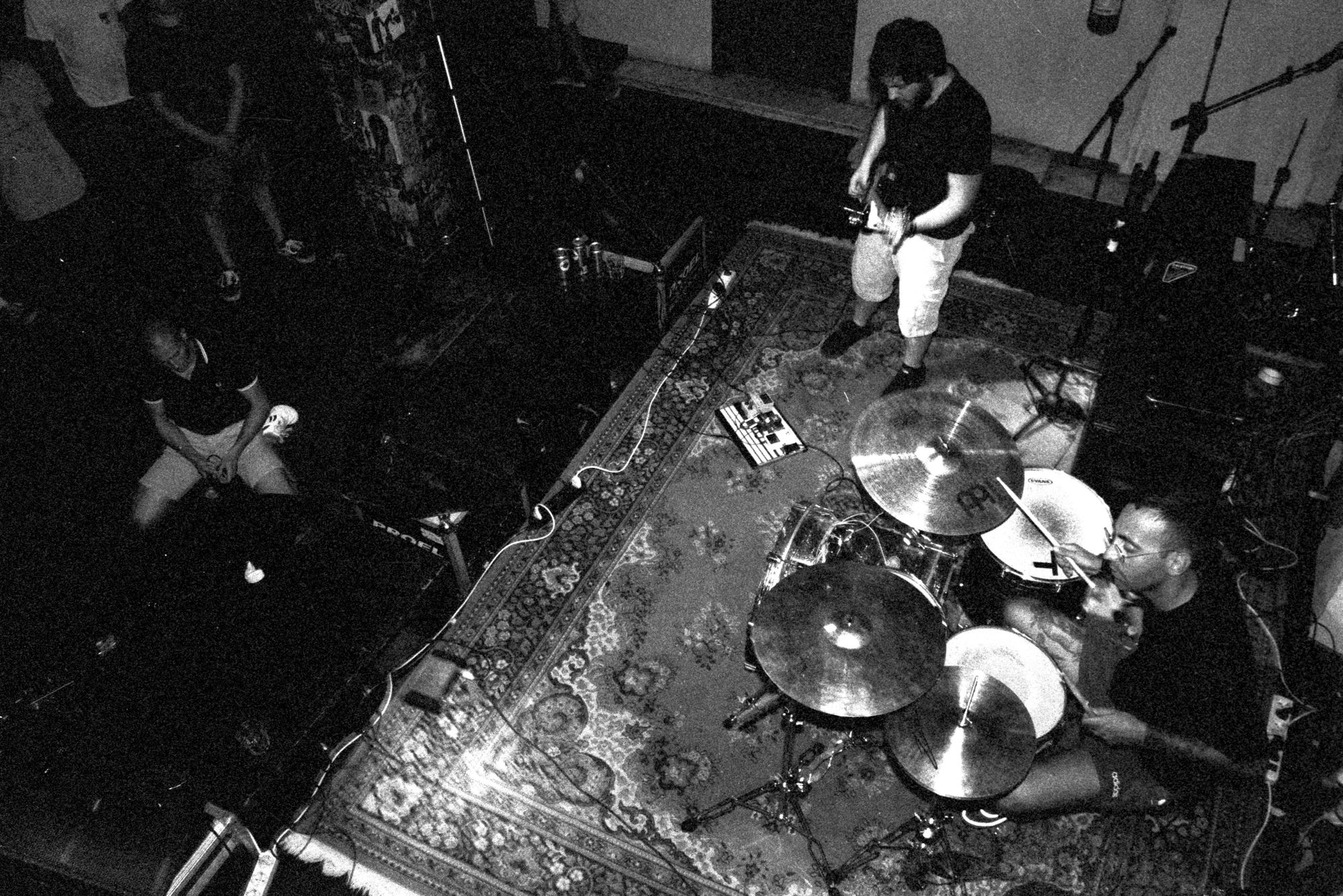 I'm asking this question to each band I interview. I wanted to have your opinion about the rise of social media (facebook, instagram), and music streaming "applications" (bandcamp, spotify). Do you think it changed the "scene" ? I mean ... I feel a lack of sincerity when using those things (for instance a political action is now resumed by changing your profile photo on the Facebook, people are obsessed with the number of "like" they got) and see it more like a threat than something good for the music and the scene we love. It changed a lot the way the gigs are going on (I did stop going to show for more than five years and saw a lot of changes), people always using their smartphone, to film or take photos and sometimes forgetting the most important thing ... listening to the music, enjoying the music. Do you think the rise of these new technologies changed a lot of things during shows. Do you think there is also a paradox in the scene, a lot of bands, venues are clearly struggling against what we call "capitalism" but are using those applications (facebook, instagram), the thoughts and the actions are in total opposition. I do believe that punk is capable of more for instance why not using software which are open-source, decentralized, and not owned by the biggest fortune companies of the world ?
We think that social media have become an aspect of everyday life that can't be ignored nor avoided. If we consider the positive side of it, social media have allowed a lot of bands to be listened and appreciated, even by people who live far away from them. Personally, we started to make lasting friendships with bands living in other parts of the world thanks to the internet: Amitiè, Lytic, Shizune, Suirami, Reste, Pique, One Dying Wish, Ojne, Radura. All of this would have been almost impossible 30 years ago. We were so happy when people living in the US and in other parts of Europe (it's a long list, and if we write down all the names, we surely will miss someone) agreed to help us print and distribute our records. Also booking gigs is a lot easier with the internet, and we're sure many people who didn't know us came to our shows thanks to the events created on Facebook. If it wasn't for the internet, probably we wouldn't be answering to these questions right now!
On the other side, it's true that sometimes people use a lot their smartphones during live shows. In many cases they're just trying to let the people who missed the gig know what happened.
Sometimes people show on the internet an idealized portrait of themselves, which actually doesn't match reality. Sometimes we were disappointed when bands who sounded so powerful on records and on the internet, turned out to be just fakes in real life. Sometimes being punk "at all costs" is just a facade.
The important thing is that the positive message, the passion, the commitment and positive values of our music reach as many people as possible, no matter the mean we use.
If you have anything to add or something so say do not hesitate. The final word is for you. I hope you like the questions of this small interview. You are very welcome in Paris whenever you want. I hope we can make you play in 2021.
First of all, we want to thank you from the bottom of our hearts for reaching out to us. Your questions were very interesting, and we gladly answered to them. No one ever asked us the meaning of our songs in detail, and the fact that you read the lyrics so carefully truly warms our hearts.
The Covid situation in Italy seems less dangerous (for now at least) and these last weeks we have been working on new songs. We are trying to create something different from what we did, and hopefully we'll share a new ep with all of you by 2021.
We are in contact with our buddies from Radura and we are talking of touring the western part of Europe in the upcoming year, starting from France and going down to Spain. We look forward to meet you in person and to see the wonderful city of Paris.
Thanks again, and take care.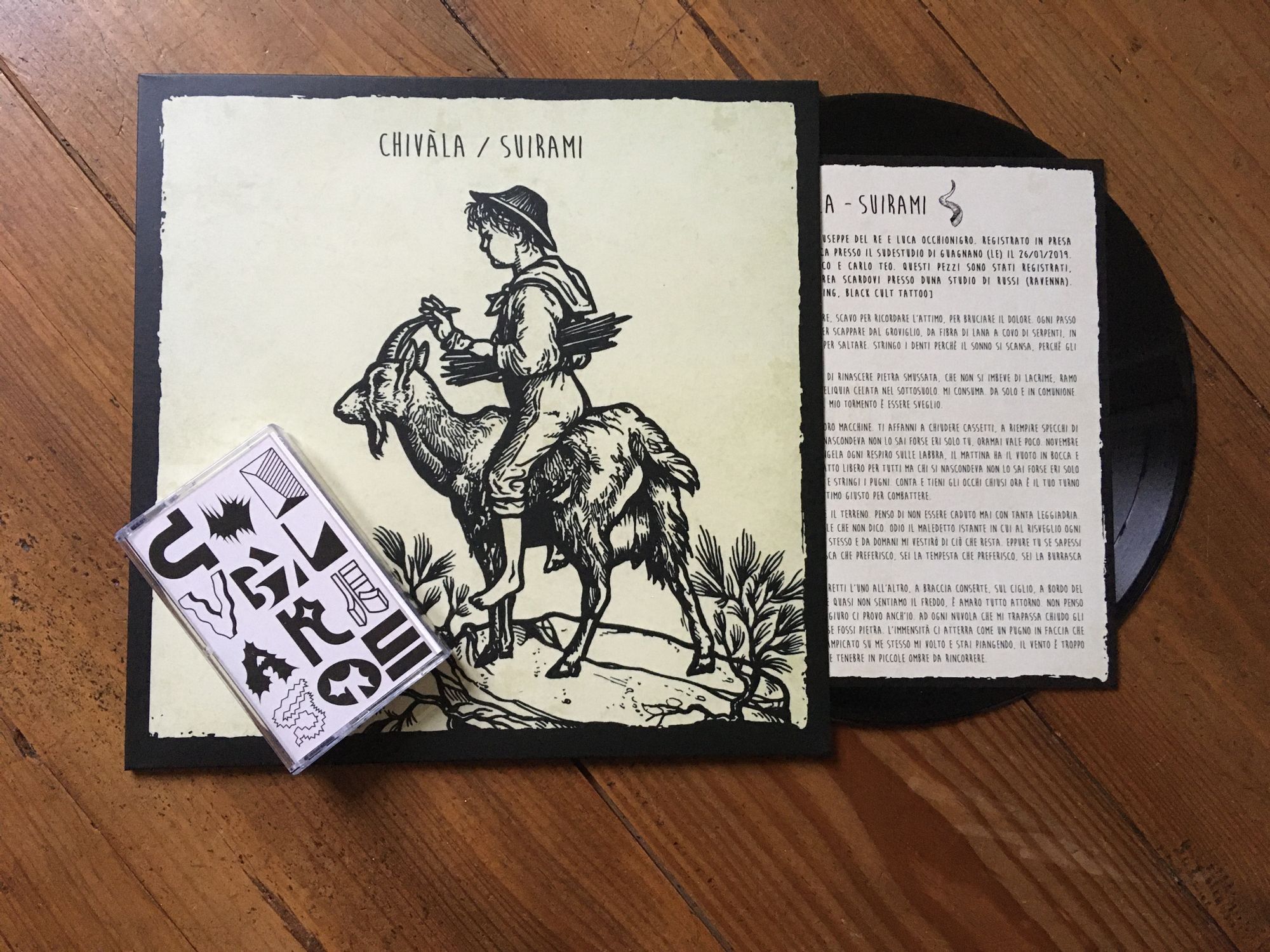 Here is a photo of the band in their actual line-up. It's the first time a band do this for an in interview on this blog. Many many thanks to Chivàla, for their time and their kindness.